The Road to Statehood
Early Exploration and Settlement
I proceeded to examine the junction of the Cahawba and Alabama. The bluff on the west side of those rivers present a beautiful scite, with springs of good water and the prospect of health. Situated on a river capable of being navigated by boats of great burthen, and supported as it will be by the abundant production of an extensive and fertile back country on the Alabama and Cahawba and their tributary streams, the town of Cahawba promises to vie with the largest inland towns in the country."
Governor William Wyatt Bibb, November 8, 1818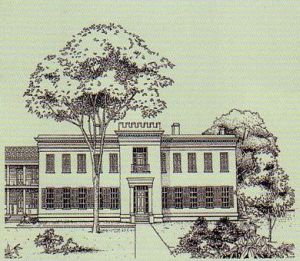 By the late 1600s, the rising power along the Cahaba and Alabama Rivers would be the French and tire British traders peddling rum, cloth, guns and ammunition for deerskin and Native American Indian labor. Over the next century, the mouth of the Cahaba River would be controlled by the French from Mobile, then the British from Charleston, then the Spanish from Mobile. Finally, in 1795, the land was ceded to the United States. During this time, the Cahaba River served as the Choctaw's eastern border with the Creeks. While the Choctaws were forced off their lands through a series of treaties in 1814, 1816, 1820 and 1830, the Creek Nation was conclusively defeated at the Battle of Horseshoe Bend in 1814. The Treaty of Fort Jackson, signed on August 9th, 1814, opened up the Cotton Kingdom to settlement, some 14 million acres in central Alabama. What the Creeks ceded away would become the heart of the state of Alabama.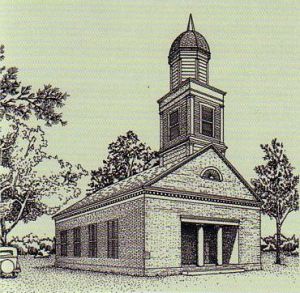 By the time the area became a territory in 1817, "Alabama Fever" was raging among the citizens of Virginia, the Carolinas and Georgia. Early reports from returning soldiers described the region around what would become the first capital as the "Acadia of America." The Cahaba was "one of the most beautiful small rivers they had seen," surrounded by a, open land of prairie and dense woods, "abundantly supplied with excellent seats for water works of, almost, any kind." Odd as it may seem, planters and yeomen in nearby states lived in what they considered a farmed-out area, so when the Alabama Territory opened after the Creek Indian War, they saw the opportunity for what it was; cheap, fertile land theirs for the taking.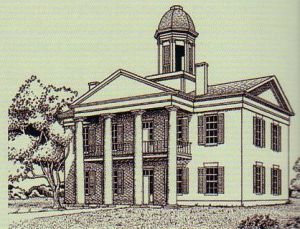 While the U.S. General Land Office was committed to the orderly dispersal of public lands, it was running a desperate race against the rapid advance of squatters. Federal surveyor, Thomas Freeman created the section maps necessary for orderly land sales and identified Cahawba as a potential town site. By May 23, 1818, President James Monroe proclaimed that the Federal Land Office in Milledgeville, Georgia, would move closer in the public lands that settlers wanted. Accordingly the office reopened in Cahawba in January, 1819 and continued federal land sales there. On December 14, 1819, Alabama became the 22nd state.