Cahawba's Pilgrimage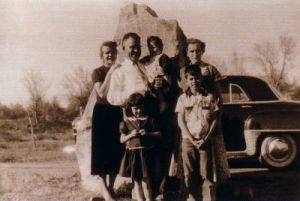 When the pilgrimages to Cahawba began in the mid-1920s, tourists came searching not only for heirloom roses, flowering vines, lilies, chinaberry trees and other living reminders of the town's past, they sought out the few remaining buildings, cemeteries, wells and other physical reminders of man's brief tenure here. Many of those reminders remain for today's visitors, and are perhaps the most vivid example of Cahawba's endurance in the imagination of Alabamians.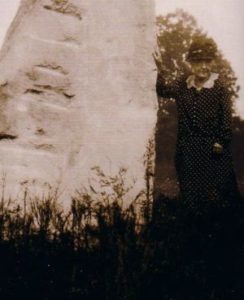 In 1908, former Cahawba resident Anna Gayle Fry published Memories of Old Cahawba, an entertaining if imaginative recollection of rekindled interest in the former capital. While Fry tended to exaggerate the lost glory of Cahawba, she did record her first-hand impressions and memories of what life was like during the town's antebellum days. Fifty years later, most of the remaining buildings were in varying states of ruin, but the old site still had a bit of life in it yet, most notably Kirk-View Farms, a progressive endeavor run by Clifton Kirkpatrick. During the first few decades of the twentieth century, Kirkpatrick, as the unofficial host of the old capital, earned the moniker "Duke of Cahawba." Slowly and even as the town's population dwindled yet further — a legend was emerging. Cahawba the historical site was born into a deserted landscape where increasingly, the sons, daughters and grandchildren of the town looked back at both their family and the town's history and were fascinated by what they saw.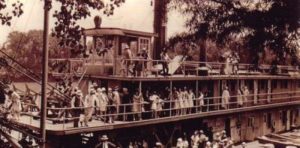 When a monument was placed near the capitol site in 1921 by the Alabama Centennial Commission, Cahawba gained its first concrete recognition as an important historical and cultural site, This was the first of many such events organized to recognize the former capitals of Alabama, and in Cahawba at least, the event provided the impetus for a 100th anniversary celebration of LaFayette's 1825 visit to Cahawba. This two-day program and pilgrimage to the old capital included a play, readings, on-site Boy Scout guides to historic points of interest, visits to the cemeteries and more. That same year, the Cahawba Memorial Association formed in Selma to sponsor annual pilgrimages every May. The association ran articles in the local paper that explored the town's history, and for the 1928 pilgrimage, created a program that featured historian Peter Brannon.
Though the association's activities declined in the 1930s, by 1948 a popular redrafting of the original town map complete with illustrations of former Cahawba houses and buildings revived interest. Using this map, a new generation of Alabamians became familiar with the former capital, now a ghost town.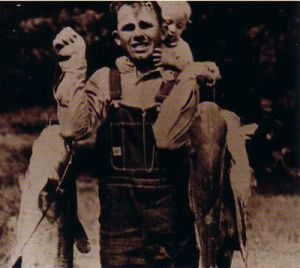 What additional interpretation they found in the 1950s was offered by the few remaining black residents of the town such as George Morgan, Pastor Will Gary and the families of Sam and Andrew Arthur in the form of stories passed down from previous generations. During this time, Frank Moseley did much to keep the site open. As a member of the Dallas County Board of Revenue, Moseley had the roads at Cahawba surveyed and platted in the interest of preserving what remained. In the next few decades, he made sure access was improved to the old capital and some signage was established.
Visitors wanting information usually received it from Olie Baldwin, Cahawba's official custodian and guide — along with a barbecue sandwich from Olie's BBQ stand along the river.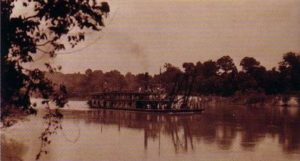 Today, the Alabama Historical Commission runs Old Cahawba Archaeological Park and offers the visitor the interpretive tools to explore the landscape. Whether they are students, descendants whose relatives once lived in the town or just the curious traveler wishing to learn more about Alabama's past, at the welcome center visitors will find books, maps, guides, brochures, pictures and relics that bring the capital past to life. Built as a reproduction of the John Tyler Morgan House, the welcome center also serves as a starting point for genealogical research, both for families with ties to Cahawba as welt as for the descendants of the approximately 9,000 Union soldiers who spent time interned at Cahaba Federal Prison during the Civil War. "People often learn about us by word of mouth or over the Internet," explains Linda Derry, Director/Site Archaeologist. "Many of those doing research are from Alabama, but we receive inquires and visitors from all over the country, even as far away as Sweden. I'm amazed at the number of people with connections to Cahawba."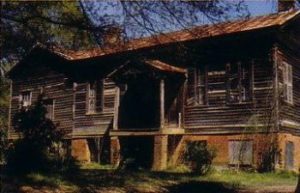 One of those people, Daniel J. Meador, picks up the story of Cahawba that Anna Gayle Fry began nearly a century ago with the 2000 publication of At Cahaba: From Civil War to Great Depression. Meador, the grandson of Clifton Kirkpatrick, traces his family's history as it intertwines with that of Cahawba's during the Civil War and beyond. While At Cahaba is largely a family memoir, many of the various records, documents, and old newspapers that complete his portrait come from Old Cahawba Archaeological Park. "We have wonderful stories from this time." says Derry. "We know people's birthdays, what political party they belonged to-all kinds of details. And the newspapers offer a good picture of what life was like in Cahawba before the Civil War. But when we're fortunate enough to meet with the descendants of those who lived in Cahawba, a richer, more complete portrait of the town really begins to emerge. They share pictures and portraits. We learn of family anecdotes and stories, and even get to see treasured items from Cahawba. By combining their knowledge with our own, we hope to protect and save Old Cahawba for the next generation."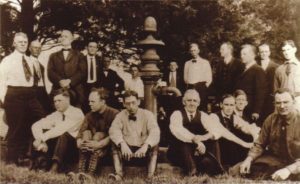 As more and more people with a family connection to Cahawba return to their roots, they return with more than just memories or oral traditions. A new Cahawba is emerging, reconstituted from old pictures and diaries, 150-year old school report cards and compositions, antique furniture and faded memories. In the landscape of heirloom roses and chinaberry trees, silent streets and fallen-in cellars are now joined with living human documents. Cahawba's children are coming home, sharing new interpretations to accompany the archaeological portrait of Alabama's first permanent state capital that continues to grow and deepen.
Cahawba is not a landscape of silent ghosts and vanished buildings: Cahawba is alive.